BenQ - GV1
Size: 80 x 80 x 155 (WxDxH mm)
Estimated Delivery Time: 5-10 Business Days
BenQ GV1 Portable DLP Projector
Includes
480p Native 16:9 (1280x720 Resolution)

Palm-sized design with convenient tilt hinge

Built-in Smart TV Apps for video streaming and gaming fun

LED light source

200 ANSI Lumens

Contrast Ratio (FOFO) 100,000:1

Wireless Projection (for iOS/macOS, for Android™, for PC)

DisplayPort via USB-C

Tilting Lens and Auto Keystone

3 Hours Battery

Dual-band Wireless

5W Bluetooth Speaker

Dimensions (W x H x D) 80mm x 155mm x 80mm

Weight 708g

3 Year Warranty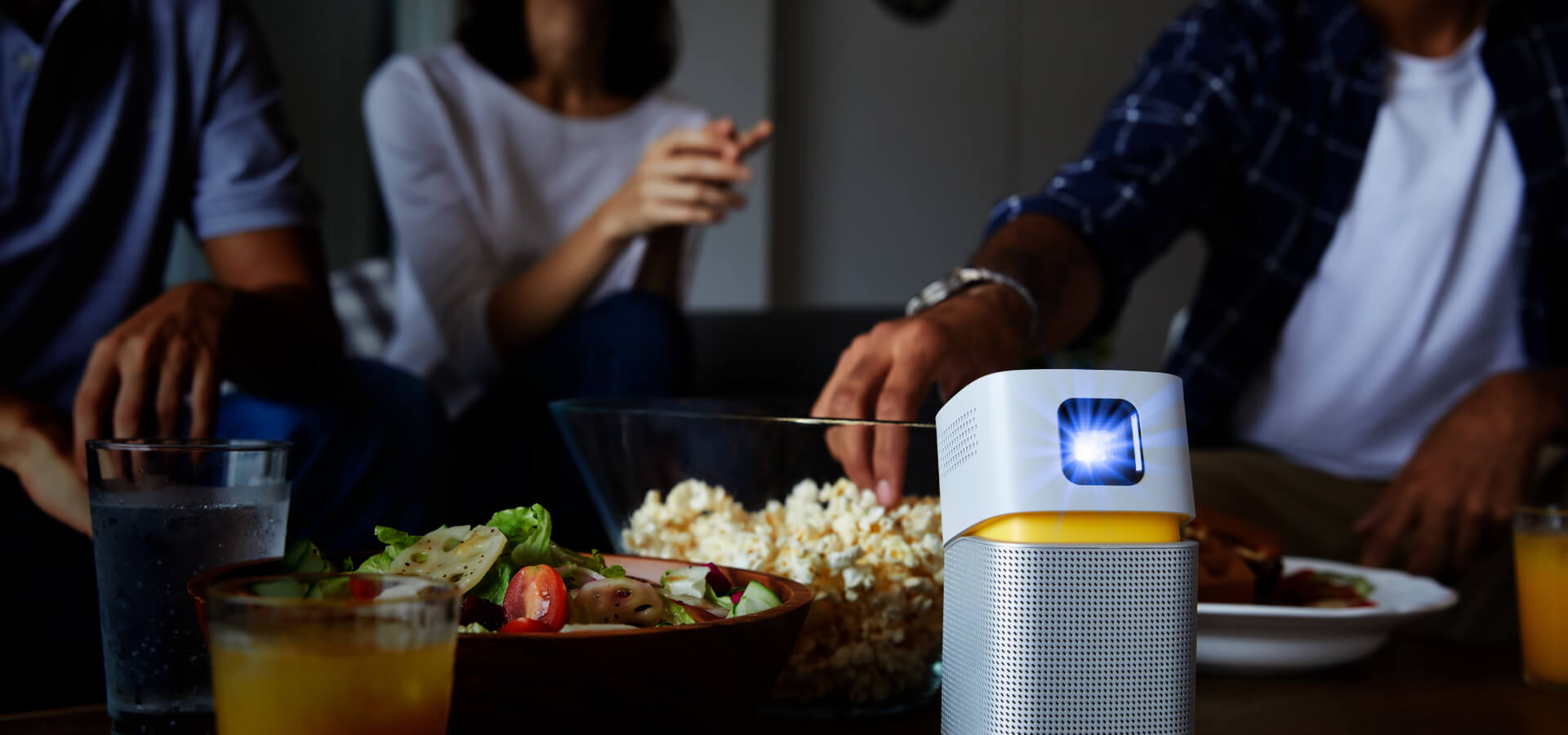 Entertainment That Goes Wherever You Go
Light up your get-togethers, work and play spaces, or wherever you go with BenQ GV1 ultraportable battery projector. Simply designed for totally wire-free fun, GV1 instantly streams movies, videos, music and more with the latest WiFi, Bluetooth, and USB-CTM connectivity.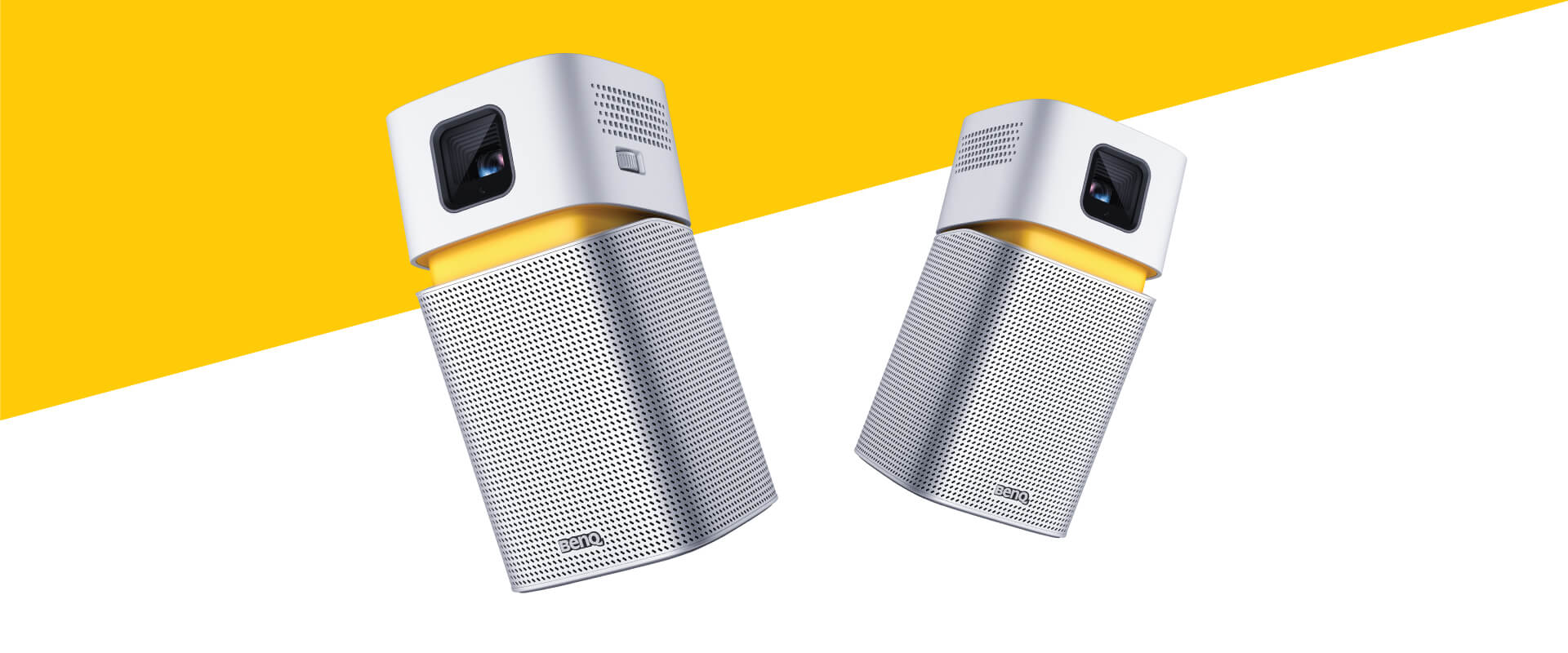 Your Entertainment Your Way
GV1 frees you from setup hassles, poor wireless connections, and cumbersome cables to just start enjoying videos, social media, music and games. Whether you're hanging with friends, cooking for family, or even working out, GV1 simply fits your life.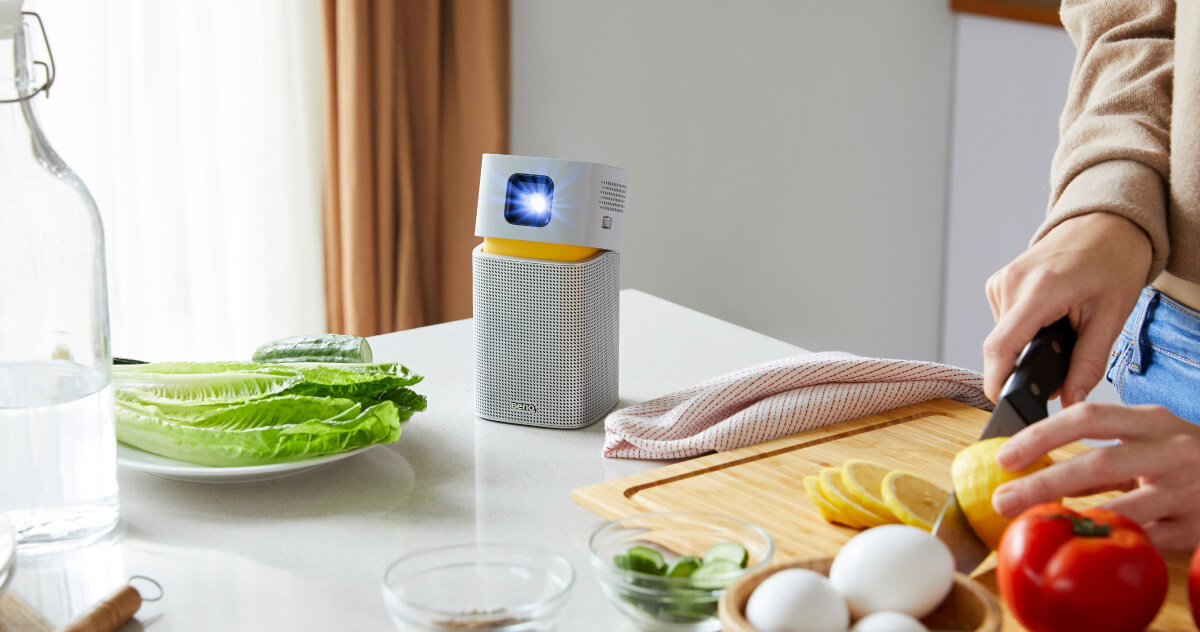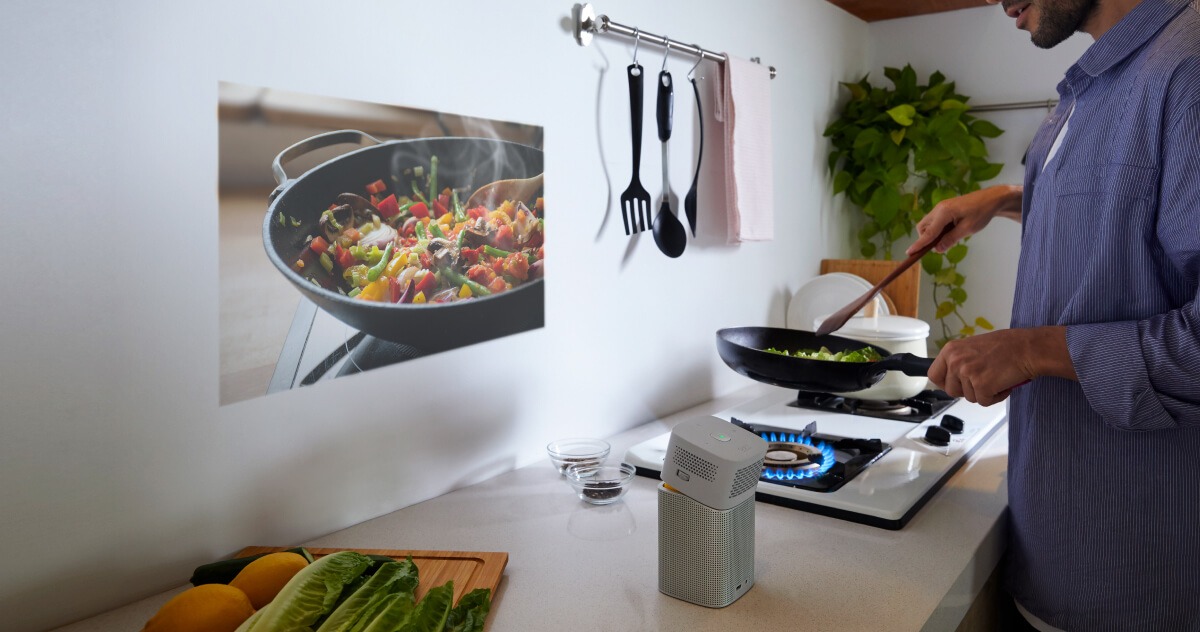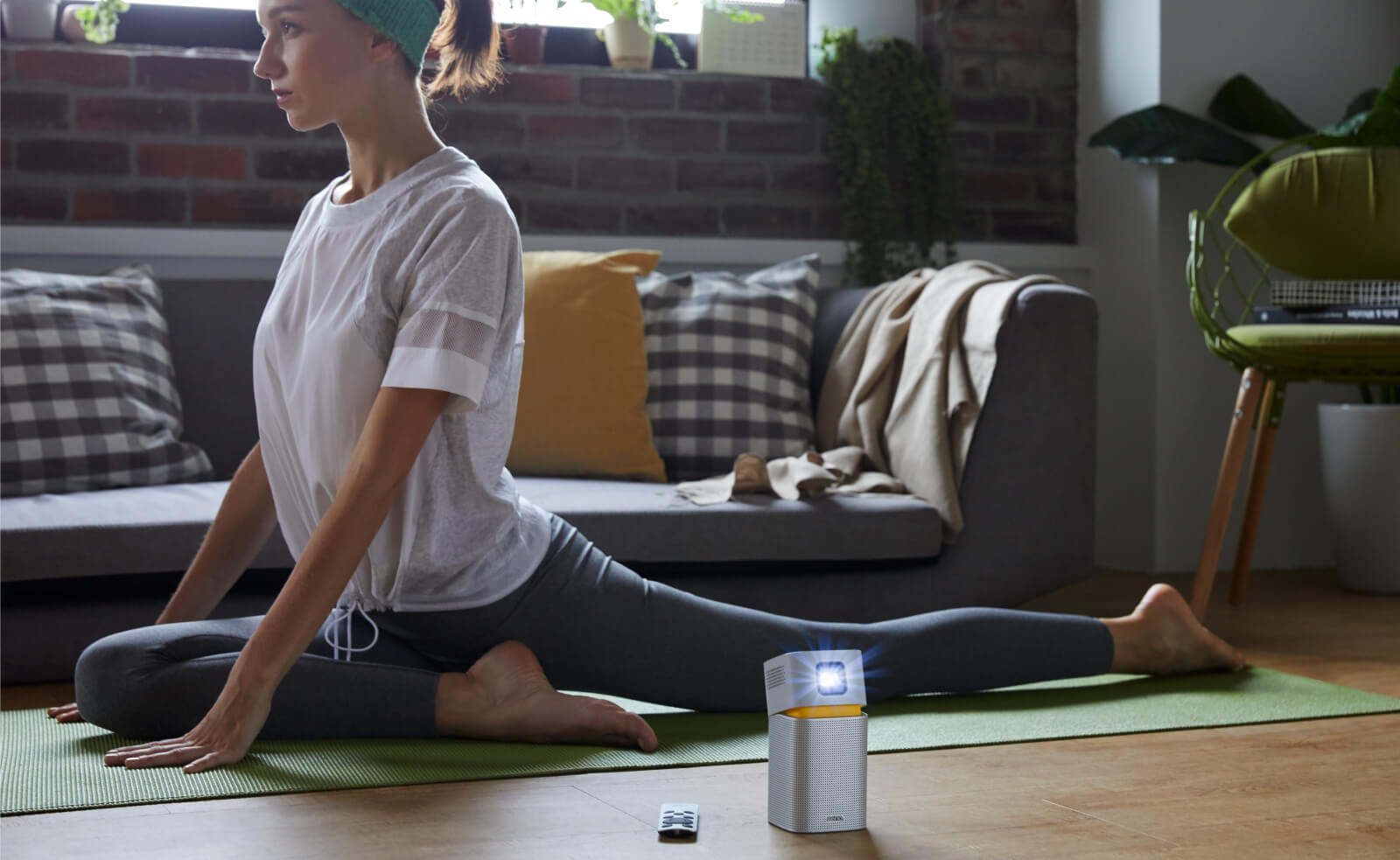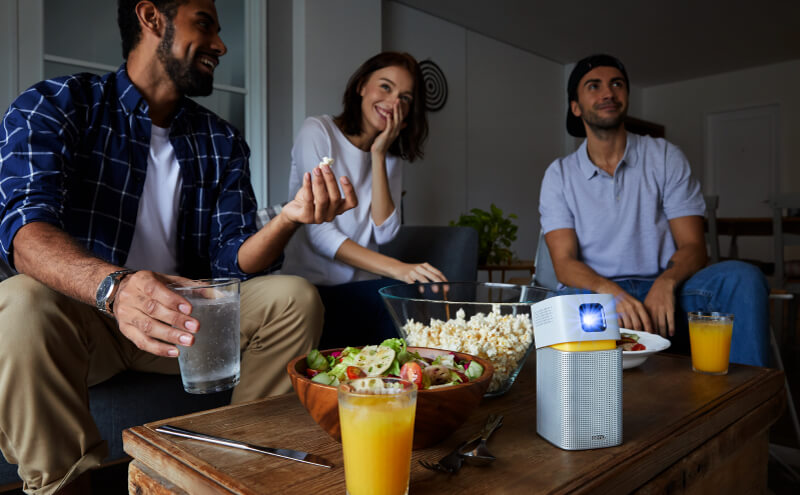 A convenient tilting hinge lets GV1's high-mounted lens produce 100" images anywhere, and its auto keystone feature keeps the picture perfectly squared.

GV1 weighs only 708g(1.6 lbs) and is about the size of a coffee cup or water bottle, letting you enjoy big-screen mobile entertainment anywhere.

Wire-free connectivity with dual-band 2.4G/5G Wi-Fi and direct hotspot simply work without wires for your mobile wireless projection.

GV1's do-it-all USB-CTM port can stream media and charge your mobile device or even play media files from a flash drive.

Robust 5-watt chambered audio turns GV1 into a portable Bluetooth speaker.

Enjoy the movies, music, gaming or any streaming content direct from the smart GV1.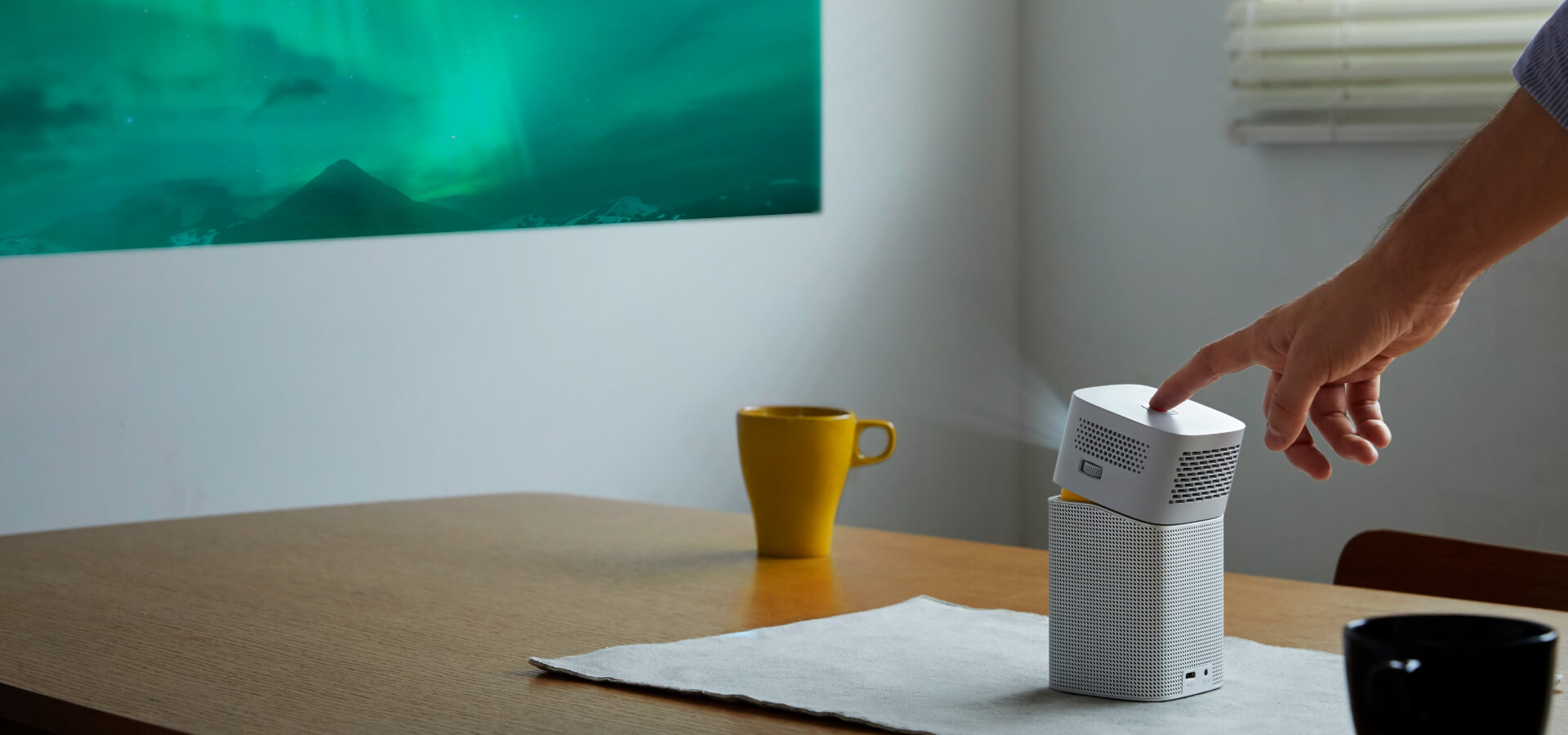 Simple Setup in Seconds
GV1 includes a convenient tilting hinge at its neck, letting you project the big picture at the perfect height to view comfortably. Its 15˚ range means that the 100" projected image can be raised up to 77cm(Max.) above the level where GV1 is placed.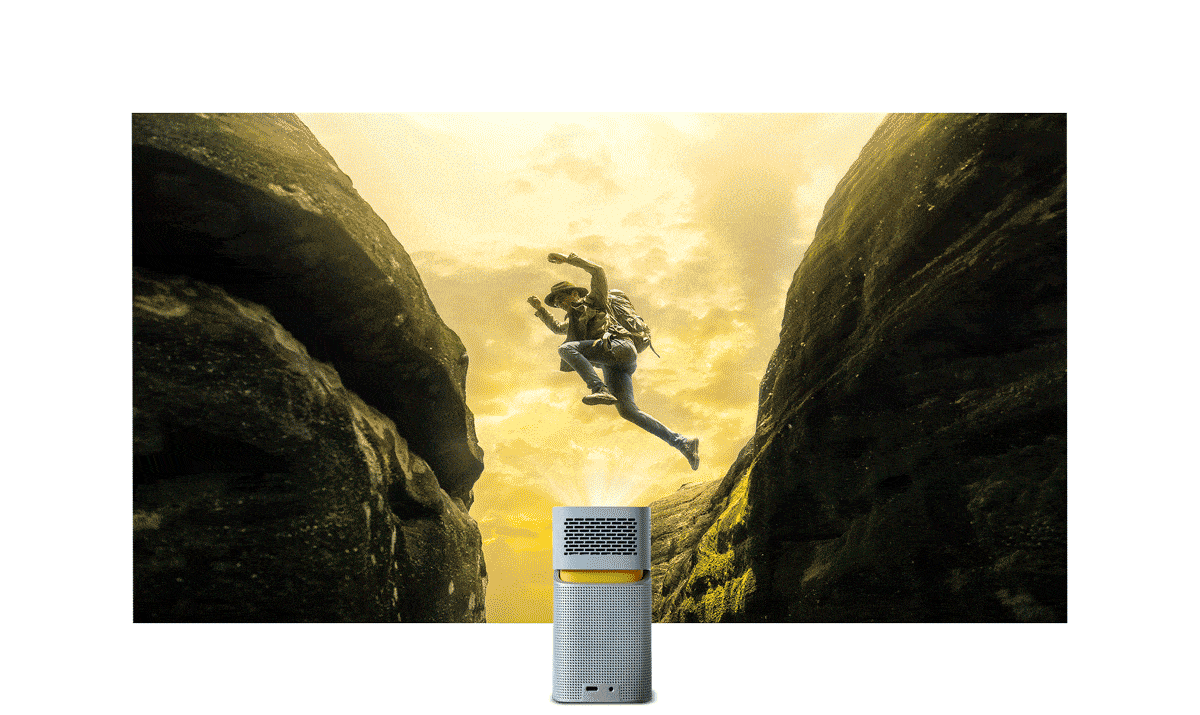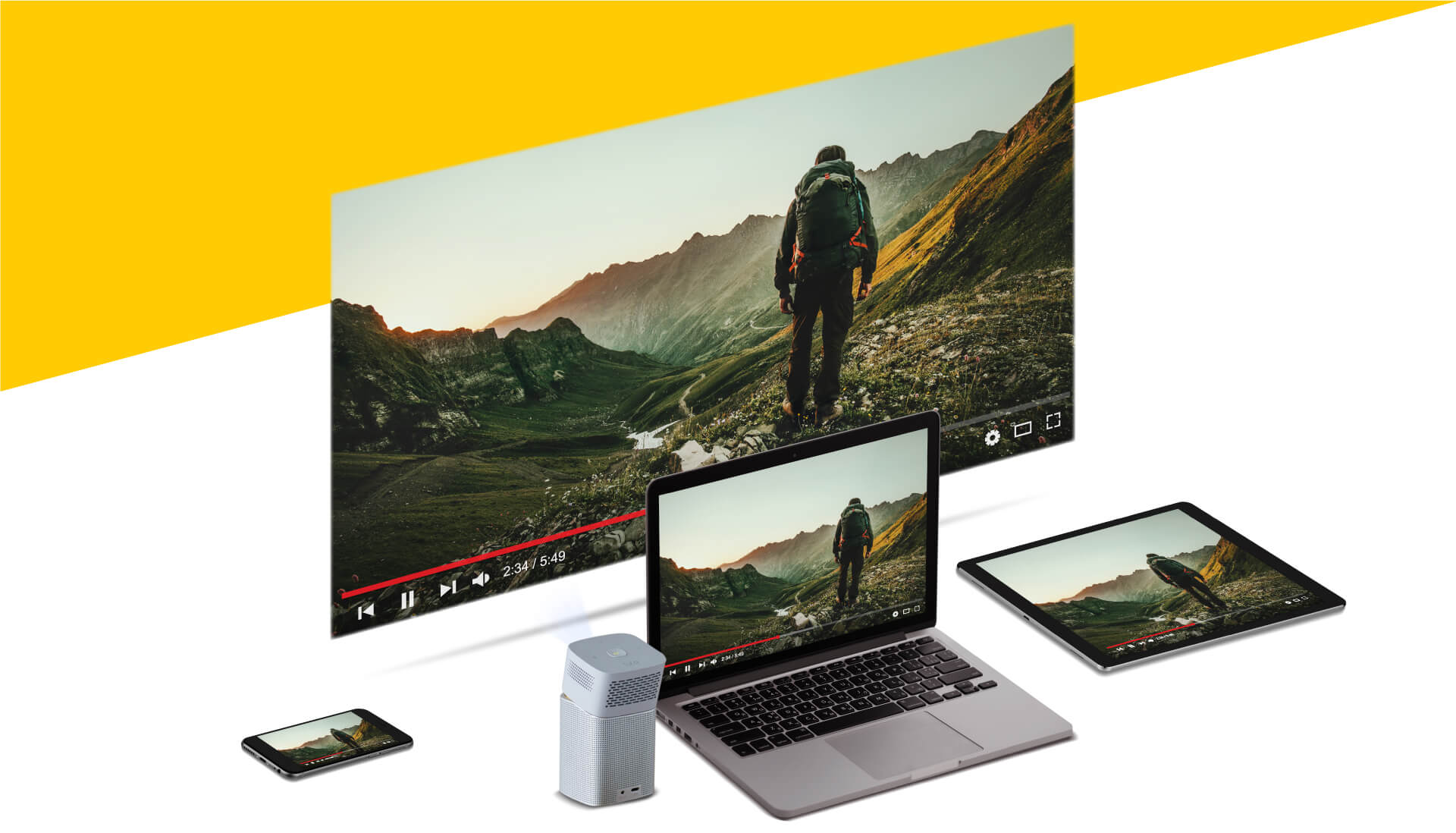 Endless Fun of Wireless Entertainment
Entertainment Unleashed
To enjoy the movies, music, or even immerse in the gaming thrill, just install the smart apps* to unleash the endless fun from the wireless.
Easy OTA Updates
Always keep your GV1 up-to-date with the latest streaming apps, display drivers, software and firmware via OTA (Over-the-Air) live updates.

* GV1 is embedded with Aptoide TV app market, you can download tools or media apps to GV1 for more streaming services, such as YouTube, Netflix, etc, so that you can enjoy the streaming content directly in Wi-Fi environment.
Wire-Free via WiFi, Bluetooth or by Itself
GV1 streams videos, games, or music via dual-band Wi-Fi and Bluetooth from your mobile*, PC and laptop devices, making it truly cable-free. Even when there's no signal, it has its own Wi-Fi hotspot to stream wirelessly from your device's local storage.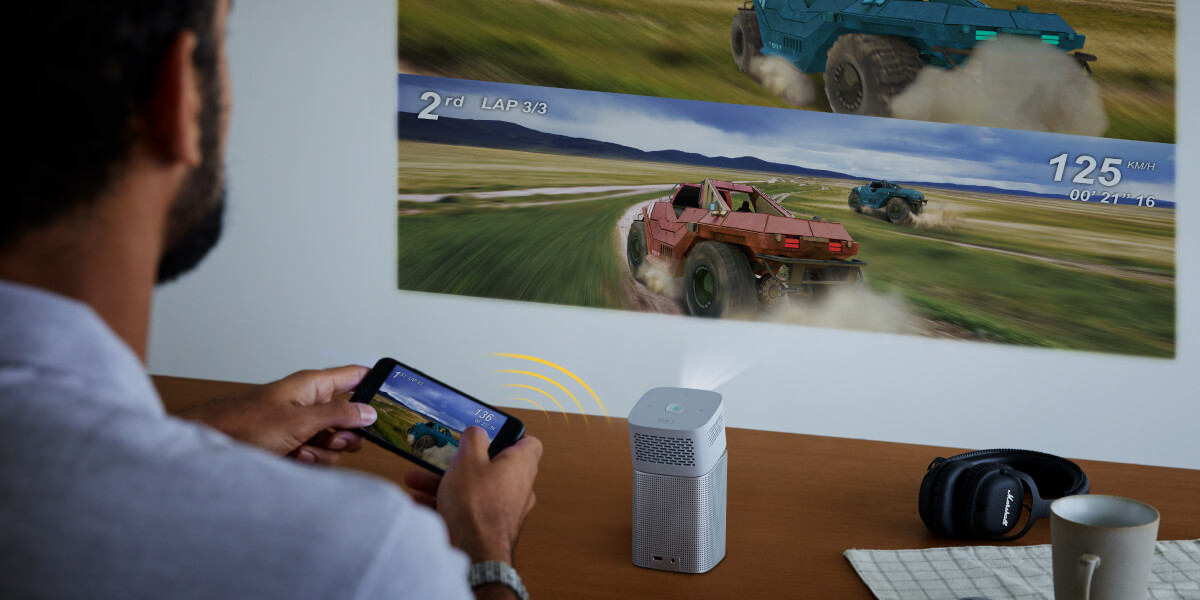 * Due to the content protection mechanism for the subscription-based streaming platform, please note that "mobile devices" cannot "mirror" the content of certain streaming services (such as Netflix, Amazon, Hulu, etc.), but you can mirror the content from the laptop, or via the apps from Aptoide TV app market wirelessly.
USB-CTM
 

for the Latest Smart Devices

With the latest phones, tablets and laptops switching to USB-C, you can also connect to GV1's single USB-C port. This handy port can also simultaneously charge your device or play videos and music from a USB flash drive.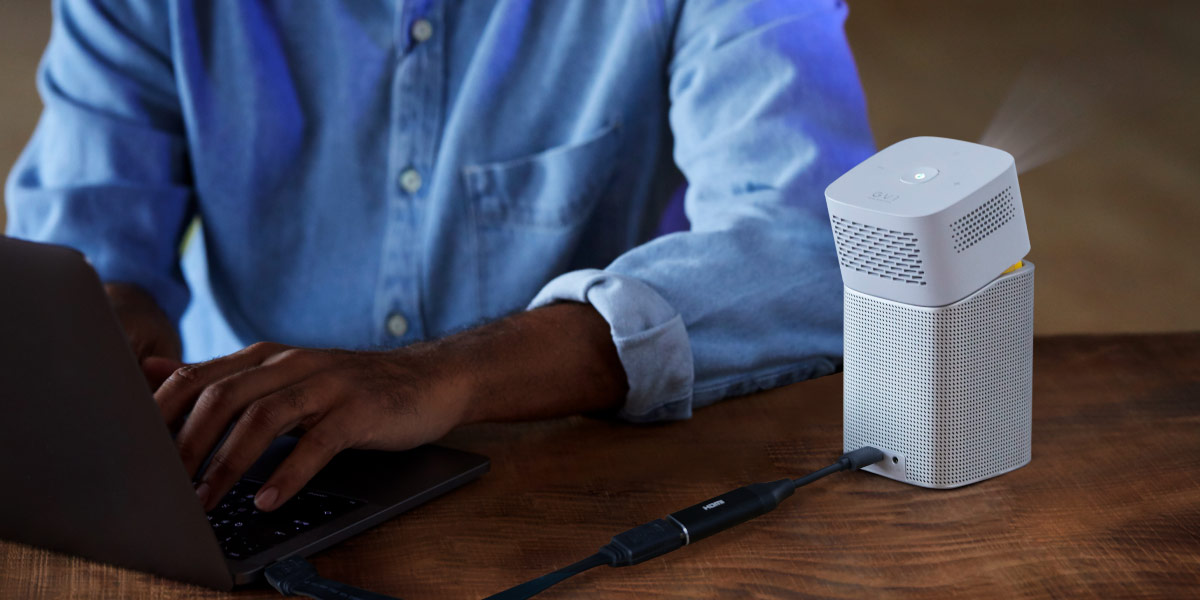 Using DisplayPort over USB-C*, GV1 can stream videos, games and music from smart devices.

GV1 supplies power** to your mobile device, which means it can charge your device while you're enjoying your streaming media.

GV1's USB-C port is also a media reader that can play movies, videos and music directly from a USB flash drive***.

HDMI to Type-C Adapter also allows you to connect HDMI devices such as notebook, Blu-ray player and Apple TV to GV1 with Type-C interface.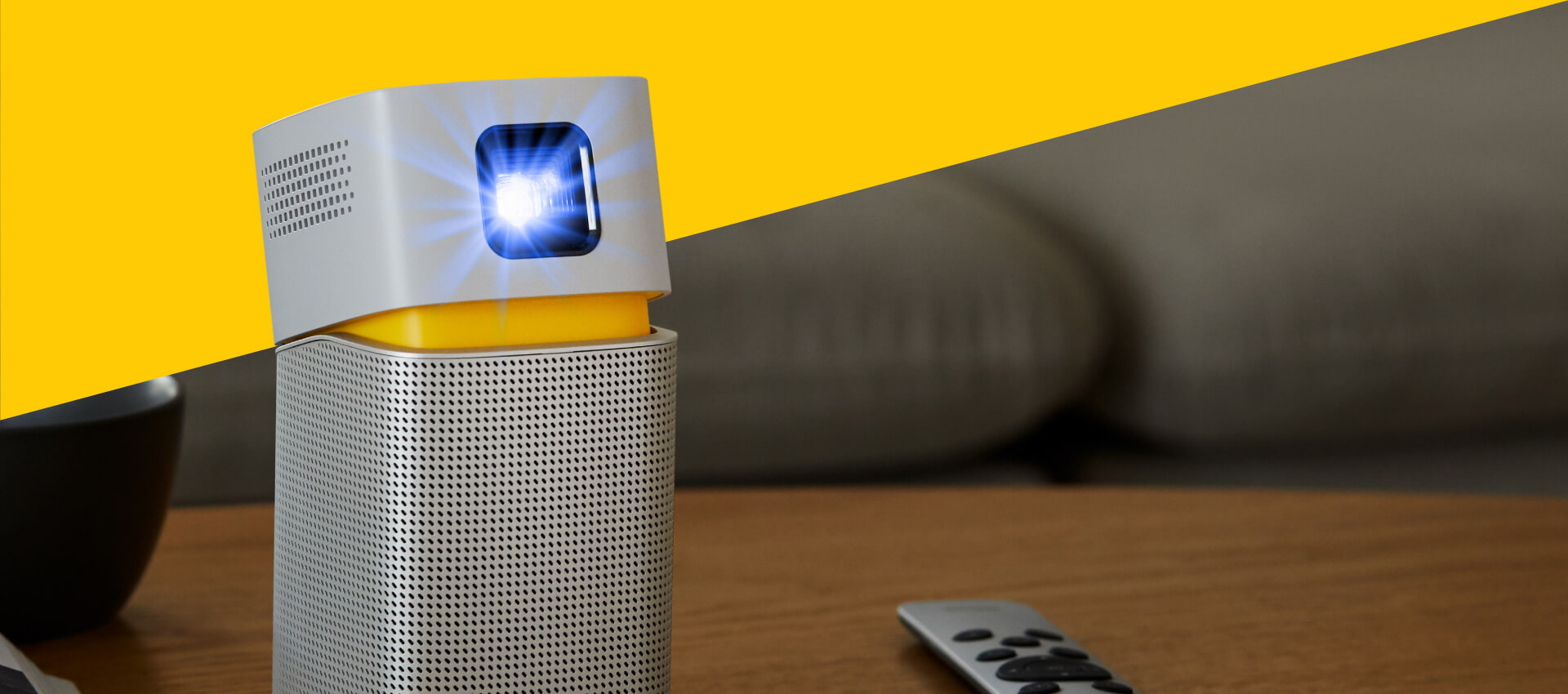 Sights and Sounds You Can Take with You
Bright and Long Lasting Pure LED Light
GV1's advanced LED projection light source lasts 30,000 hours for years of spontaneous instant-on entertainment. Its LED-powered high brightness showcases big-screen entertainment up to 100".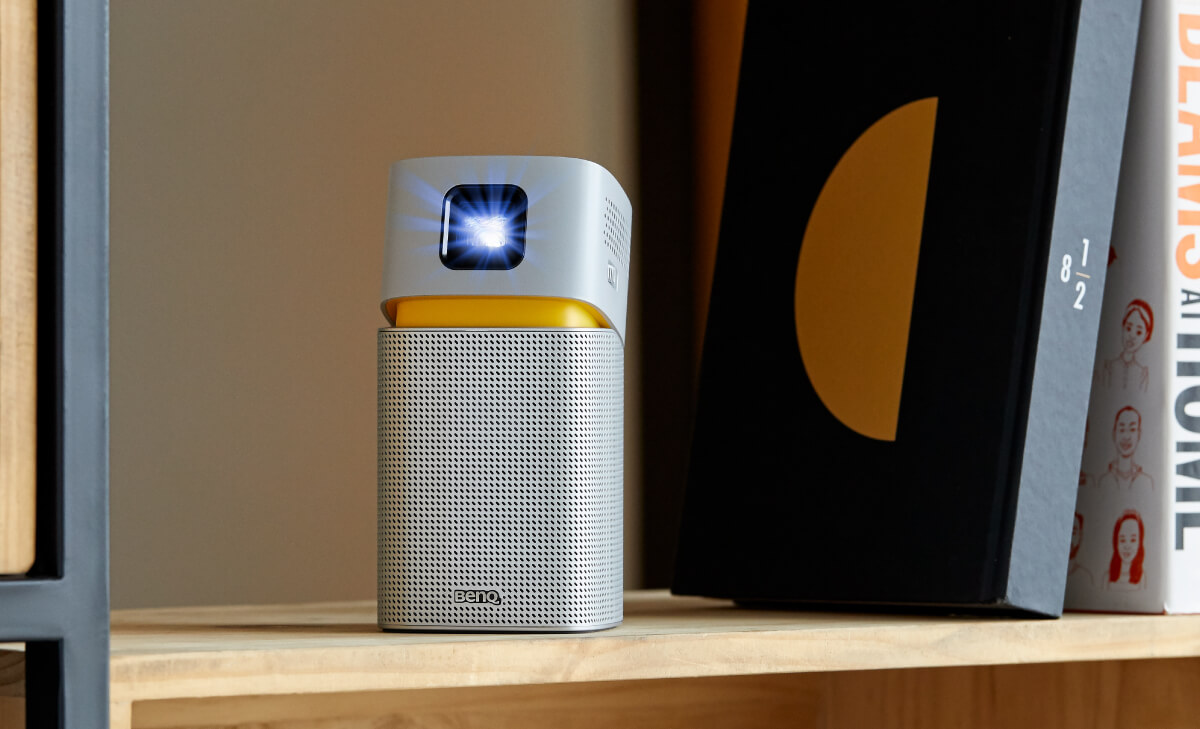 Loud and Clear Bluetooth Speaker Mode
GV1 becomes a battery-operated portable Bluetooth speaker at the touch of a button, bringing crystal clear music wherever you go. Its powerful 5-watt chambered speaker fills the room, all without any wires.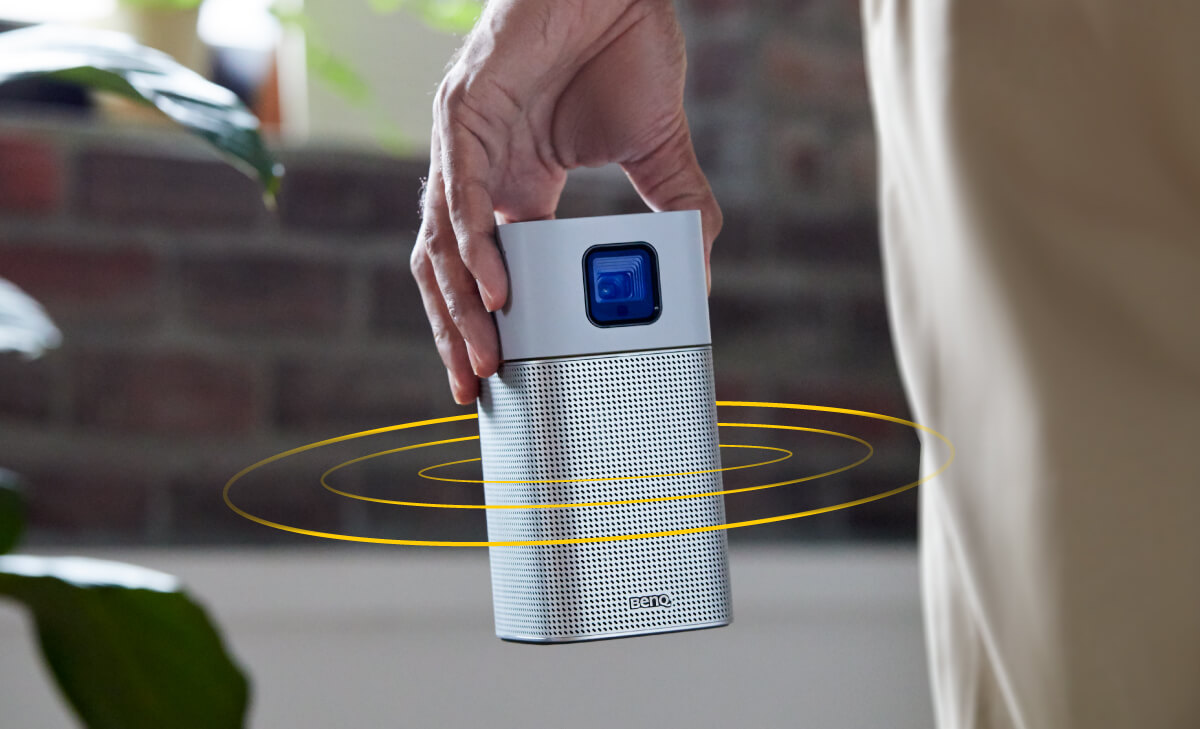 3-Hour Battery Life for Binge Watching
GV1's 3-hour battery life gives you plenty of time to enjoy full-length feature films with friends and family, catch up on your favourite shows, tune in to the big game, or even play one yourself on the big screen.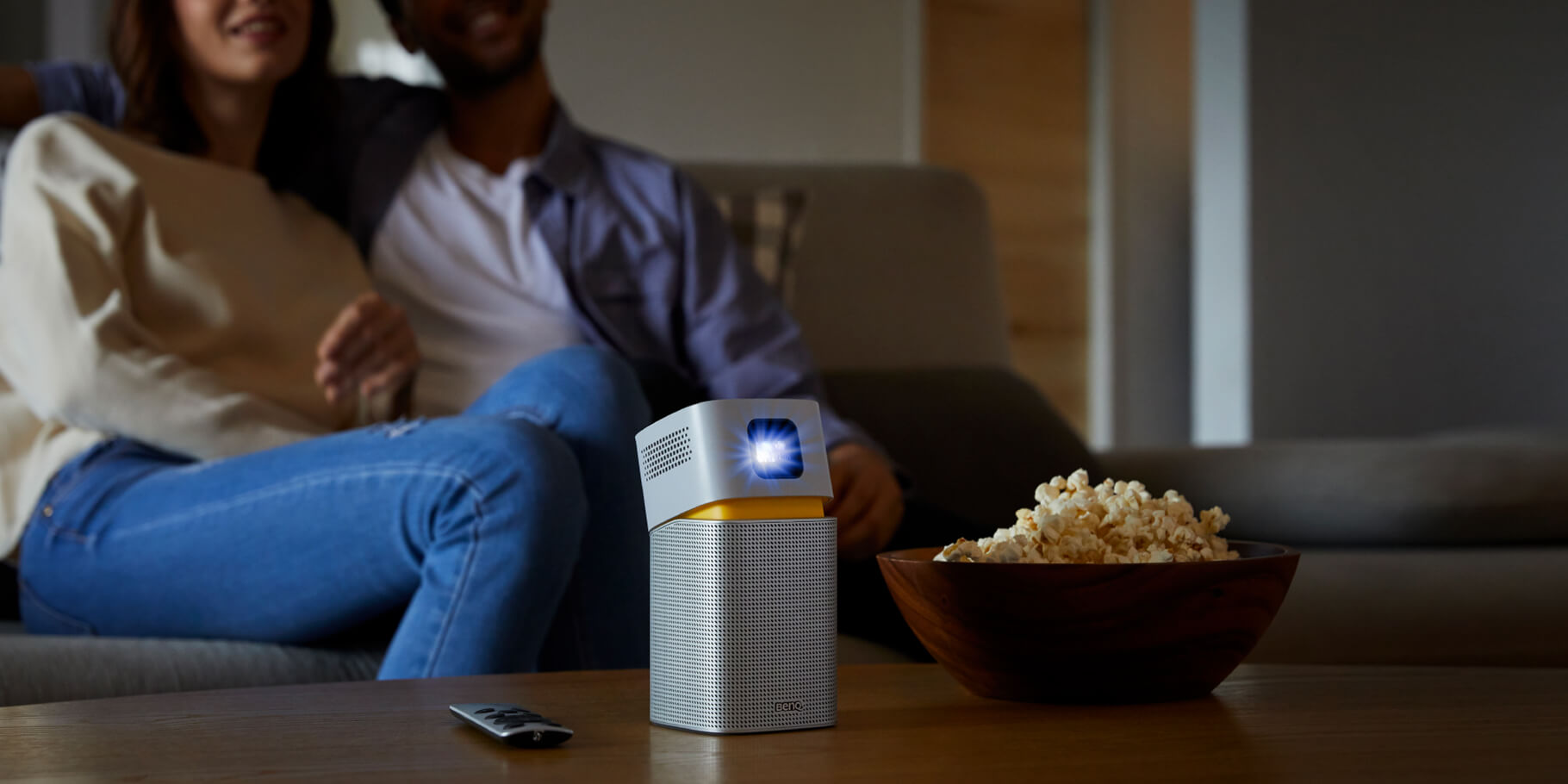 Huge Fun in a Tiny Package
GV1 weighs only 708g(1.6lbs) and is about the same size as a venti cup of coffee. GV1 comes with USB-C cable, remote control, power cord, and a protective fitted bag designed to simply carry the projector.